Regular price
Sale price
$79.00 USD
Unit price
per
Sale
Sold out
Share
The History of Whoo Cheongidan Radiant Rejuvenating Balancer 150ml / 5.1 fl. oz.
Product Description
The finest skin balancer formulated with premium Wild Ginseng extracts and over 26 Korean herbal ingredients provide complete anti-aging care to greatly improve skin complexion.


Brand Story
The History of Whoo collection is the modern reinterpretation of traditional beauty secrets from the Korean royal courts. 
The brand combines the benefits of Eastern herbal medicine with modern science.


Ingredients:
PLANTAGO ASIATICA SEED EXTRACT, NELUMBO NUCIFERA SEED EXTRACT, PLATYCODON GRANDIFLORUM ROOT EXTRACT, BRASSICA CAMPESTRIS (RAPESEED) EXTRACT, ZIZIPHUS JUJUBA FRUIT EXTRACT, SODIUM HYALURONATE, TRISODIUM EDTA, VELVET EXTRACT, REHMANNIA GLUTINOSA ROOT EXTRACT, POLYGONUM MULTIFLORUM ROOT EXTRACT, ANGELICA GIGAS ROOT EXTRACT, ANGELICA GIGAS EXTRACT, OYSTER SHELL EXTRACT, GARDENIA FLORIDA FLOWER EXTRACT, ATRACTYLOIDES JAPONICA RHIZOME EXTRACT, CNIDIUM OFFICINALE ROOT EXTRACT, VISCUM ALBUM (MISTLETOE) EXTRACT, PRUNUS ARMENIACA (APRICOT) KERNEL EXTRACT, ANGELICA TENUISSIMA ROOT EXTRACT, POLYGONATUM OFFICINALE RHIZOME/ROOT EXTRACT, OPHIOPOGON JAPONICUS ROOT EXTRACT, GLYCINE SOJA (SOYBEAN) SEED EXTRACT, PAEONIA SUFFRUTICOSA ROOT EXTRACT, TRICHOSANTHES KIRILOWII ROOT EXTRACT, CUSCUTA AUSTRALIS SEED EXTRACT, DIOSCOREA JAPONICA ROOT EXTRACT, FORSYTHIA SUSPENSA FRUIT EXTRACT, SESAMUM INDICUM (SESAME) SEED EXTRACT, MAGNOLIA OFFICINALIS BARK EXTRACT, LEDEBOURIELLA DIVARICATA ROOT EXTRACT, CYPERUS ROTUNDUS ROOT EXTRACT, ALLIUM TUBEROSUM SEED EXTRACT, EUCOMMIA ULMOIDES BARK EXTRACT, CORNUS OFFICINALIS FRUIT EXTRACT, POLYGALA TENUIFOLIA ROOT EXTRACT, TRIBULUS TERRESTRIS FRUIT EXTRACT, ACHYRANTHES BIDENTATA ROOT EXTRACT, EPIMEDIUM KOREANUM EXTRACT, THYMUS VULGARIS (THYME) EXTRACT, ANGELICA ACUTILOBA ROOT EXTRACT, CARTHAMUS TINCTORIUS (SAFFLOWER) SEED OIL, EUCOMMIA ULMOIDES LEAF EXTRACT, YELLOW 5 (CI 19140), GOLD, BUTYLENE GLYCOL, YELLOW 6(CI 15985), PAEONIA ALBIFLORA ROOT EXTRACT
Product details of Sulwhasoo Clarifying Mask EX 35ml /1.18 fl.oz
Bodily Waste/Dead Skin Cell Care Peel-off Mask
The peel-off mask thoroughly removes dead skin and impurities for fine, clear and soft-textured skin.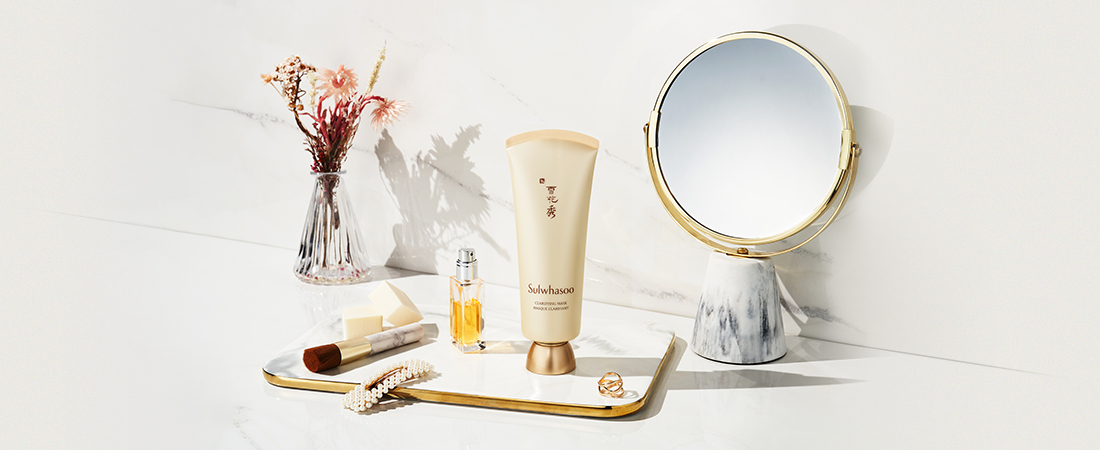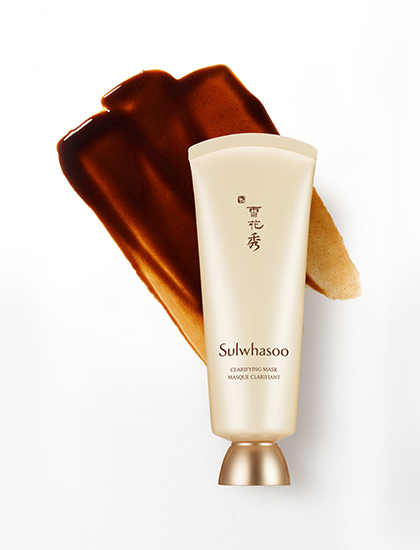 Removes dead skin and bodily waste
Thanks to its elastic texture, the Clarifying Mask fits tightly onto the skin and adhere impurities and dead skin as it dries, thereby caring neat and tidy skin.
Achieves bright and clear skin with fresh herbal ingredients
The Clarifying Mask contains Solomon's Seal powder, which helps to improve rough skin affected by dead skin and impurities to clear and radiant skin.
Achieves smooth and fine-textured skin
The Clarifying Mask removes impurities and dead skin, then tightens up skin pores to deliver smooth and fine-textured skin appearance.
Satisfaction over product efficacies
* Test Subject: 45 persons, 35-49 years of age / Testing Period: January 16, 2020 ~ January 23, 2020 / Testing Institution: ACORN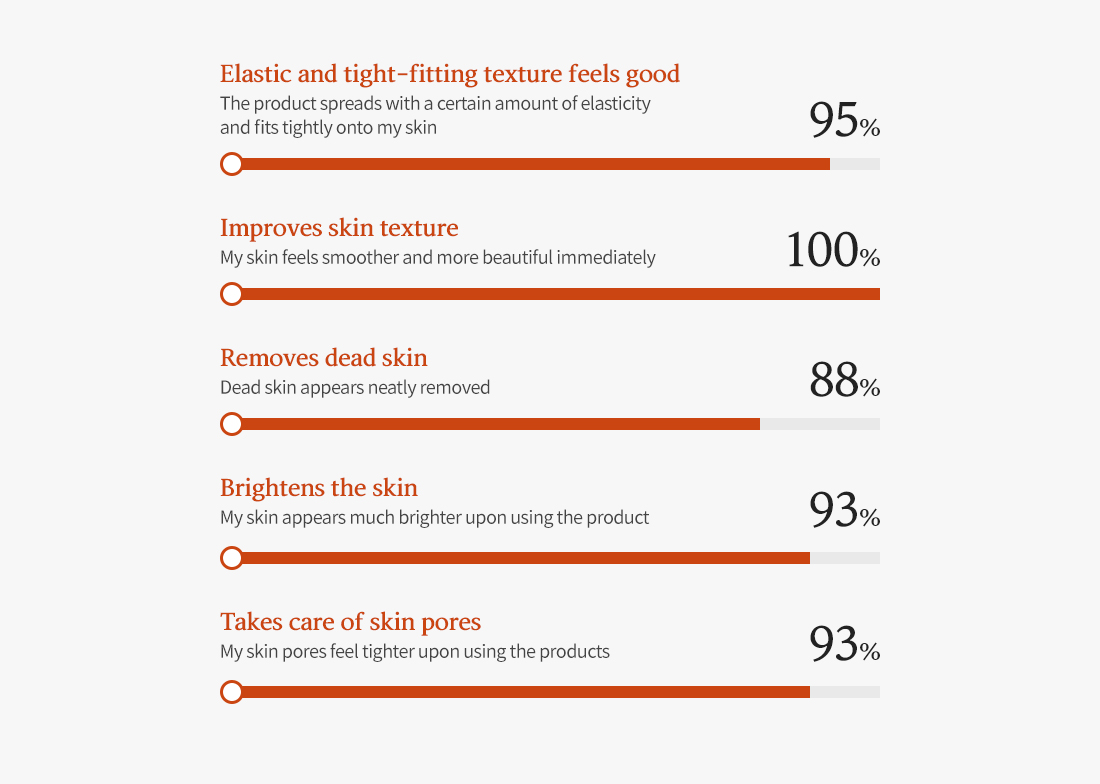 How to Use
1 STEP

After using an emulsion product, apply the product in the order of cheek/chin → nose → forehead (avoid the eye area).

2 STEP

Wait 20~30 minutes for the pack to dry.

3 STEP

Peel the mask off from the top of the face to bottom of the face.
Sulwhasoo Overnight Vitalizing Mask EX 35ml 
Nourishing/Radiance Care Sleeping Mask
The Korean traditional herbal sleeping mask that supplies moisture and
nourishment for skin to restore its natural radiance on the next day
- Ranked no. 1 in the mask category for 4 consecutive years*
- Popular as an overnight mask among consumers all over the world
(*Beaute Research, 2015~2018 Q4, based on cumulative sales in Korea)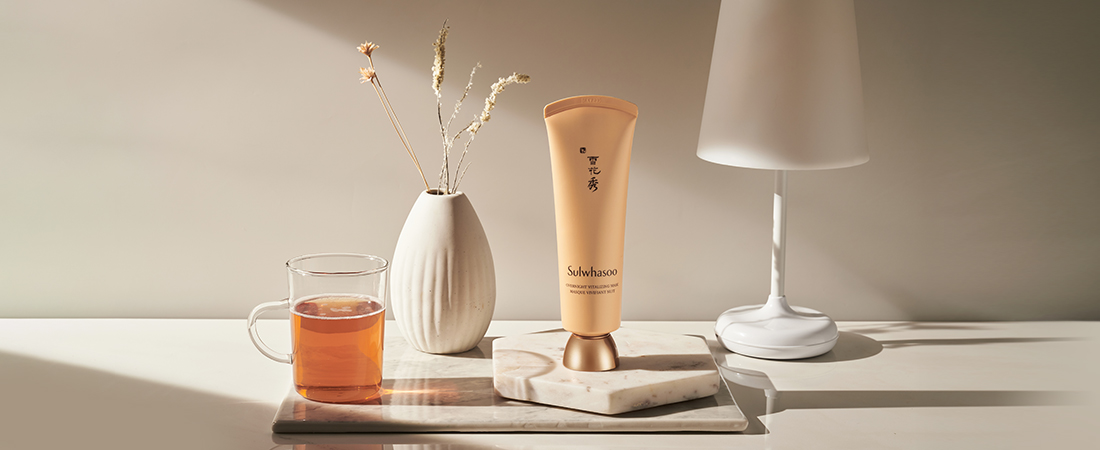 Product Characteristics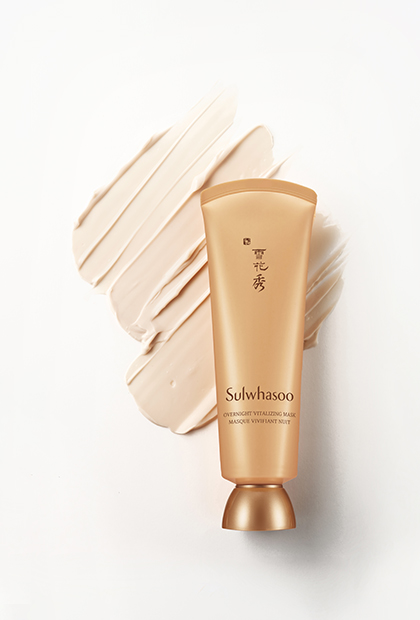 Takes care of the skin overnight to make it radiant in the morning
The Overnight Vitalizing Mask contains the Nutritive RED Elixir™ formula, which features Jujube and Pomegranate extracts that strengthen the skin's protective barrier, providing the skin with sufficient moisture and nutrients overnight to restore its radiance in the morning.
Skin-comforting texture and technology
The Overnight Vitalizing Mask's dermatologically friendly texture creates a moisturizing layer providing comfort, reducing moisture loss overnight, and supplying plenty of nutrients to the skin
Features a herbal aroma created with Comfort Wave Technology™
The Overnight Vitalizing Mask features a herbal aroma inspired by Korean traditional herb produced using the Comfort Wave Technology™.
Proven Results
Satisfaction over product efficacies
* Test Subject: 45 persons, 35-49 years of age / Testing Period: January 9, 2020 ~ January 16, 2020 / Testing Institution: ACORN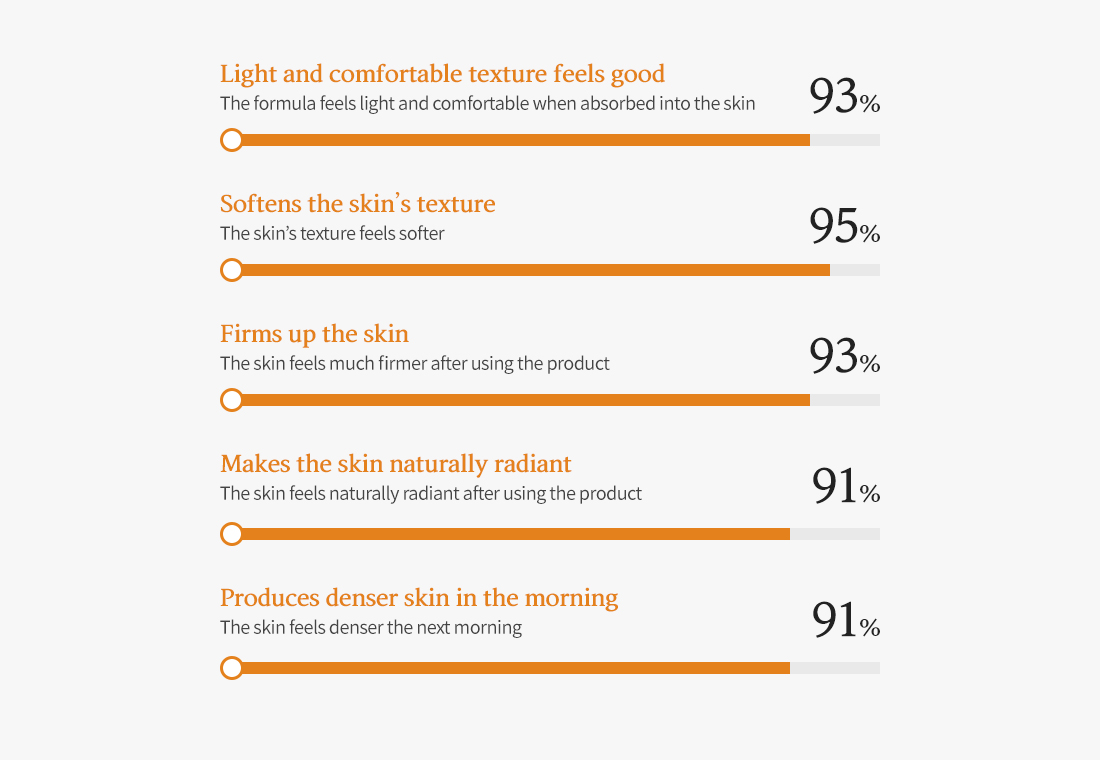 How to Use
How to Use
1 STEP

At the very last stage of your skincare routine, dispense a small amount of the product.

2 STEP

Apply evenly across the entire face (avoid the eye/lip areas), then wait five minutes until the skin absorbs the product completely before sleeping.

3 STEP

Rinse gently with lukewarm water the next morning.
View full details