Sulwhasoo Concentrated Ginseng Rescue Ampoule 20g
SOS ampoule that comes to the rescue of your skin
when it is exposed to external irritants
Rescue Ampoule activates GINSENOMICSTM and Ginseng Berry right before use, thereby calming the skin with just one use
Powerful high-functional ingredients found in ginseng Ginseng Berry The rarest ingredient +
GINSENOMICSTM Concentrate of active beauty ginsenoside found in ginseng
Effectively improves five of the most common skin
concerns with just one use100% of customers experienced instant improvement Soothing / Skin barrier / Moisture amount / Skin texture / Glossiness1)
Visibly noticeable skin improvement - firmness,
reduction of wrinkles and pore size after a single bottleImprovement in skin elasticity 16%, Reduction in the appearance of crow's feet 9%, Reduction in pore size 19 % 2)
* Based on 3-week clinical study on 34 Asian women ages 20-49 / P&K Skin Research Center
1) Percentage of clinical trial participants who showed improvement (immediately after use) 2) improvement rate of 3 weeks after use
Real reviews from real customers after using the
Concentrated Ginseng Rescue Ampoule
Temporary improvement in skin condition immediately after using the product
**Based on 3-week clinical study on 34 Asian women ages 20-49 /
P&K Skin Research Center Satisfaction of clinical trial participants with their skin after using the product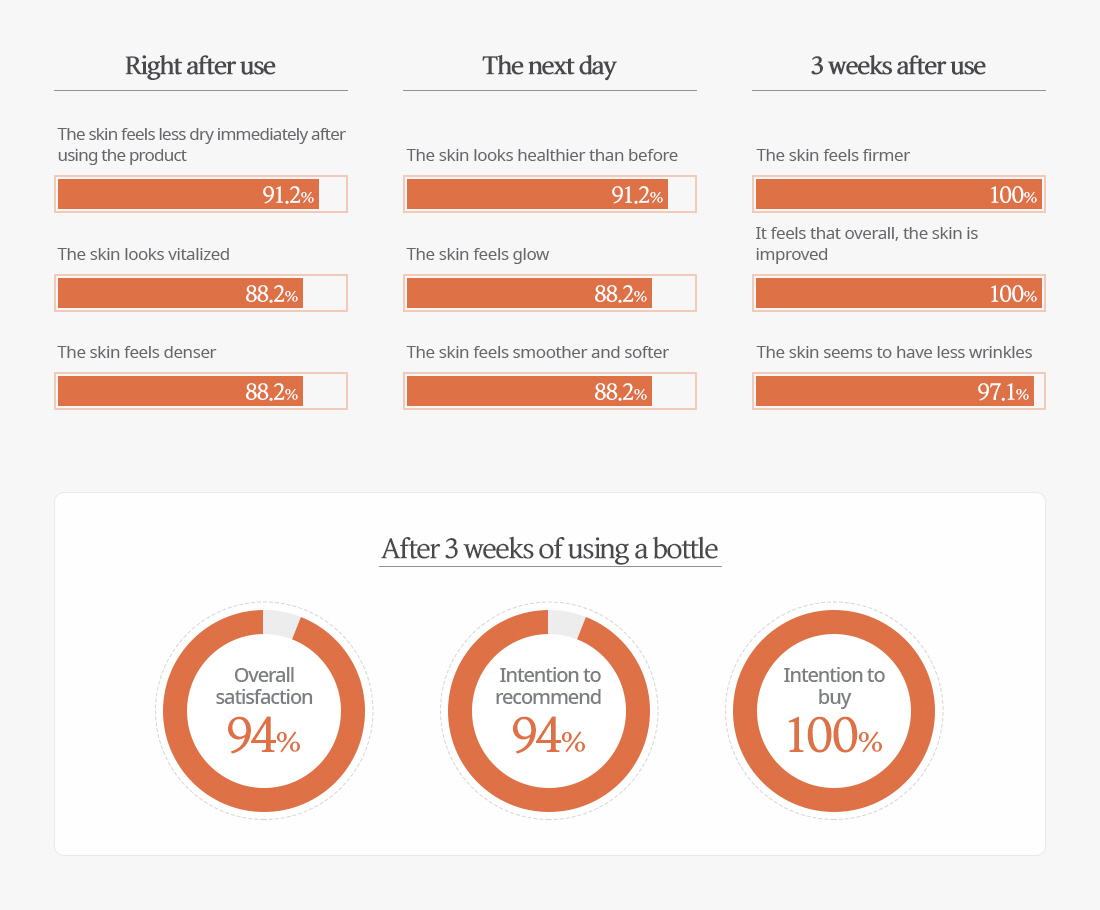 HOW TO USE
Activate the formula right before the first use.
Use the product after the toner step of your morning / nighttime skincare routine.
It is also recommended that you use one bottle within 3 weeks.
* Caution
Remove the label on the container and twist the top until the black bar meets the bottom half before first use.

Refrain from shaking the product too vigorously as it may form foam or bubbles in the formula.

There may be changes to its color and fragrance, which does not mean it is a defective product.

Please keep the product standing upright.
**** 5 items Kit
OHUI The First Geniture Set Kit/5 items/Skin+Emulsion+Cream
The First Geniture skin Softner Sample 20ml
The First Geniture Emulsion Sample 20ml
The First Geniture Essence Sample 5ml
The First Geniture Eye Cream Sample 5ml
The First Geniture Cream Intensive Sample 7ml
This special skincare line invigorates lifeless skin for optimal anti-aging effects with patented Stem Cell Technology from the world-renowned CHA Biotech, a global research institute for stem cell research and LG Household and Health Care.
* Signature 29 Cell 
* Essence of vital energy
* peony extract
* Transkin EGF/hGF
This premium anti-aging cream effectively slows down the aging of the skin while leaving the complexion translucent and beautiful.